---
According to Cricinfo, we have entered the Shane Watson era. Historians are undecided whether it will rival the Roman Empire or the reign of Constantinople but are quietly confident. As for the Australians, Ricky Ponting is already mentally rehearsing his Ashes victory speech. Not only do we have our aura back, it's more buff and rippling than ever. The selectors are high fiving whenever they pass each other in the hallway. Coach Tim Nielsen is preparing some room on his bookshelf for the Australian equivalent of an MBE. Why? Controversially appointed new opener Shane Watson got 62 runs on Day 1.
But how long will this new golden age last? On Day 3 when Watson pulls a hammy in his second over? Or Day 5 when he dislocates his shoulder during warm-ups. Especially considering he's playing at Edgbaston, aka the "graveyard". Entire Ashes campaigns have been lost here during inoccuous warm-ups. Glenn McGrath's turned ankle was the turning point in 2005. Brad Hadden broke his finger yesterday. With luck and careful management, Watson could emerge from the 3rd Test alive.
Or perhaps the Shane Watson era will only last as long as it takes England to realise the reason they won the 2nd Test was they bowled full and straight. All this wide, short stuff was swallowed up as eagerly by Phil Hughes as it was by Shane Watson. Perhaps they were taken by surprise by the selection, as was the rest of the cricketing world. But they had plenty of time to adjust. Not only a full day of rain delay but Phil Hughes' knee jerk twitter spilling his axing hours before it was officially announced by the team.
On Day 2, Australia will hope to build a strong first innings. We should see Graham Manou come out to bat for his maiden Test innings (or hopefully on Day 3). Will Cricinfo be labelling it the beginning of the Era of Manou?
---
---
Okay, I'm feeling a little better about forgetting to put pads on in a club game. Apparently, an English club player was timed out after running out without clothes on:
A cricketer was left stumped and 'timed out' - after being caught short in just his underwear when he should have been walking out to bat. After being caught in a 'state of undress', team-mates at the Bournemouth Cricket Club frantically tried to find hapless Ed, 18, some extra cover to get him to the crease.

But despite running out to bat clutching his box and a helmet, he was sent back to the pavilion without facing a ball, receiving a rare 'timed out' dismissal for taking more than three minutes to get the pitch.
It's one thing to forget a piece of equipment. To walk out to the middle without clothes is another thing entirely. Of course there are exceptions to every rule: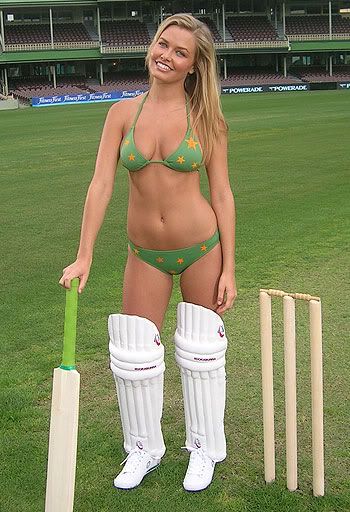 ---
---
With Australia down 1-nil, the big question for the 2009 Ashes is will the English weather grant Australia enough time to take 20 wickets? Can we even take 20 wickets? Currently, Edgbaston is covered in so much water, there's talk the English team will replace their new kit with one of those superfast swimsuits employed at the current swimming World Championships.
But if we do manage to get on the field today, more questions abound. Will Mitchell Johnson be in the team? If so, will he land it on the pitch? Will Freddie still have the wood on Phil Hughes? Can Nathan Hauritz maintain his position of leading wicket taker? Is Ian Bell still rubbish? We'll find all these answers soon enough. Hopefully yes, yes, no, yes and yes.
---
---
This was the game we'd been waiting to play all season - playing the team with girls from the Queensland woman's squad. Or as one guy put it as he arrived at the ground, "are we playing the chick team today?" We won the toss, our captain batted and lo and behold, one of the girls was opening the bowling!
A wicket fell in the 2nd over so I found myself going out to the new ball like good cannon fodder does. The wicket taker was West Indian, resembling a young Michael Holding. Even his casual, loping run-up had a feel of Whispering Death. Will of the dodgy batting advice informed me he was swinging the ball outwards so I took my stance a metre outside the crease, hoping to nullify the swing. His first delivery whooshed past with heat. Hmm, maybe I'll bat inside the crease, give myself more time to see the ball.
Next ball was a bouncer, aimed precisely at my head. I swayed back like a limbo dancer and watched the ball whistle past my nose. As he walked back to his mark, I resolved to get well forward, not be intimidated into getting stuck on the crease. Next ball was a length ball on off stump. I stepped forward to defend, it swung away past the outside edge. Dang West Indians and their quality fast bowling!
At the other end, Will blocked out a tight over of line and length from the medium paced girl. Then I was back facing Whispering Death. First ball was on the pads, I clipped it off the middle of the bat to the square leg boundary. Take that, all you Caribbean quicks who terrorised Australia in the 80's! I took a single off the last ball of the over and found myself on strike to the girl. As she ran into bowl, my thoughts were I'd hate to get out to a girl. Forget that, focus on the ball! She proceeded to bowl 6 perfect line and length medium pacers which I blocked or left for a maiden over. It was like facing a female Glenn McGrath. Certainly the most interesting opening bowler pair I'd ever encountered.
Will and I resolved to see off Whispering Death who while bowling the occasional jaffa was somewhat erratic. Finally he bowled a juicy full toss outside off that I threw everything at, driving it past point for four. I found myself back facing the girl who bowled a bouncer at me. It sat up nicely, I stood tall and pulled it to the boundary. The sharp crack as it hit right in the meat definitely qualified it as my savour shot of the day. Sure, it was off a girl but Aloof Theory doesn't discriminate.
Eventually Will fell to Whispering Death, caught behind (after surviving three dropped chances in the slips). Out came Craig and on came a left arm chinaman (no, he wasn't Chinese, that's what he bowled). His first ball was an absolute pie, nearly a double bouncer going well down the leg side. I tried to smash it but missed. Wasted! Next ball was fuller but also down the legside. I missed again and we ran a single bye. Next ball, Craig successfully achieved what I'd been trying to do and swept the ball to the square leg boundary. Then he sent the spinner over mid-wicket for six.
A medium pacer was at the other end and I knocked him around for a couple of boundaries. I was starting to feel pretty good when a new medium pacer came on. I figured 5th change bowler, surely things should get easier from here. Second ball, I leg glanced for four. I decided to try and push things on a bit. Fourth ball was a straight length ball. I defended it with hard hands, maybe a bit too much bottom hand. It took a thick outside edge, floated out towards cover who ran several metres to his left and took a comfortable catch. Out for 32.
Funnily enough, I would've been delighted with an innings like that at the start of the season. According to Aloof Theory, it was a successful innings. Heaps of boundaries, some cracking shots including that very satisfying pull shot. But after a few long innings, I find myself disappointed that I didn't go onto a half century or more. I was dismissed due to a lack of concentration plus underestimating the bowler. That's the cruelest aspect of cricket - it's sheer unforgiving nature. You can construct the perfect innings but all it takes is one mistake and you're gone.
Craig fell in the next over and suddenly we went from cruising at 2 for 83 to faltering at 4 for 85. However, our middle order rallied with a series of useful partnerships and by stumps, we were soaring at a season high of 9 for 327. Our top scorer, Trev, was stranded on 97 not out and would have to wait a week before the chance to notch his century. A quick look through the opposition scorebook revealed they'd never scored more than 260 all season so we left the ground fairly confident we'd sew up first innings points next week. Should be easy, right?
---
---
Being a legspinner, it's in my nature to have contempt for all offspinners. After all, finger spin is an inferior artform to wrist spin - like comparing checkers to chess. As Gideon Haigh puts it, offspin is cricket's rubbish skill. Legspin, when administered correctly, is a delightful combination of drift, flight, spin and variations that conspires to bewilder and confound the batsman. Finger spin, on the other hand, has the main purpose of tieing down one end to stem the run flow. At best, it has a soporific effect on the batsman which may induce a wicket due to tedium or disrespect for the bowling (otherwise known as dead marsupial mental disintegration).
However, after the second Ashes Test, with Nathan Hauritz taking more wickets than any bowler on either side, I find myself experiencing new and strange feelings. It's an unusual sensation which I can best approximate as admiration. Admiration for Nathan Hauritz. Sure, it was easy to rationalise his wickets at Cardiff - a KP brain melt, middle order slogging and tailend pushovers. But at Lords, he took genuine wickets. Outside edges. Surprised top order batsman with drift and bounce. And dare I say it, turn. Not to mention he took his most impressive wickets after dislocating his finger. Although I have half a suspicion this may have improved his bowling.
Who would've thought we'd be heading into the 3rd Test debating Mitchell Johnson's spot, with Nathan Hauritz guaranteed a place. Who could've predicted Nathan Hauritz would be leading the wicket tally? For both teams! Is it to Hauritz's credit or an indictement on the rest of our bowlers. Probably the latter but still, a good effort, Haury. This is not to say I've changed my attitude towards offspin. For now, Hauritz is the exception that proves the rule. Things will default to normal programming once he has a crap game which I'm sure is just around the corner.
---
---
Apparently, Shane Watson is ready to step into Phil Hughes' shoes. No, it's not April 1st (I did check the calendar just to be sure). Watto thinks he's up to the job of Test opener:
"Definitely. I've been working on my batting, especially the past couple of months, tightening up my technique a little more. I've always said I believe I have the game - and the mental game - to bat anywhere in the top order. I've been batting from three to four for Queensland for the last three or four years and opening the batting in one-day cricket."
Does Shane Watson have the technique, temperament and, let's face it, the stones to withstand a rampaging Andrew Flintoff with the new ball? Does he have the physical stamina to even run a quick single without pulling a hammy? This smacks of Stuart Macgill bravado. Back in the Warnie days when the only way Gorilla would get in the squad would be to select two spinners, he'd talk up every pitch as a raging turner, including Perth and Brisbane.
The fact that anyone is even contemplating replacing Phil Hughes with Shane Watson is a blight on the Australian selectors and the utter lack of options they provided in selecting zero back-up specialist batsmen. Next we'll be talking about replacing Ricky Ponting with Ronnie MacDonald. I hear he'd make a great #3 (and a half decent captain).
---
---
The news wasn't exactly a surprise, but there was still an element of shock attached to the revelation that Kevin Pietersen will miss the next six weeks, and the remainder of the Ashes series, following surgery on his right Achilles tendon.
Deep down it was news I knew was coming - the shock stemming from the fact I didn't want to believe it and an irrational hope for a Flintoff-esque doctor-defying soldiering on (because, let's face it, a 70% fit KP is still one the Aussies are scared of.) Of course, that was a vain hope, the frequent breaks from fielding and wincing in-bewteen the wickets ensuring that the bad news was always going to come some way down the line.

So, where does the news leave England? Well, it puts to bed one of this summer's perpetual worries, and long-term it's good news for KP and England. But no one on this blog is bothered with that. For those of us rightly concerned with the next three, massive Tests, this is terrible news for England. They've lost, in my opinion, the one player they couldn't afford to.
I know Flintoff was superlative at Lord's, but the truth is, he probably hadn't bowled like that since a certain year we English like to mention (a lot) and I could still be confident in his absence - the team have shown they can live (even thrive) without him, and we have a relatively strong battery of reserve bowlers who could take his place. The same is not true with KP.
In many ways it will be a great test for the team, and one they probably needed at some point. Any time but now. Not against this lot. Not when we're one nil up with three to play. Much pressure will be heaped upon his replacement Ian Bell, but the pressure notches will rise considerably too on each of the batsmen in the line-up. Each will need to offer an extra 30% in effectiveness to compensate for the absence of the classiest act among them.
On countless occasions Kevin Pietersen has got his side out of trouble. For the next three Tests they must avoid that trouble in the first place. It wont be easy, and I hope I'm placing too much importance on his inclusion, but his loss is a series prediction-altering one.
If Ponting was looking for something to give his players a lift, he's just found it.

---
---
It wasn't because of the dodgy umpiring decisions. We can't blame that dirty, rotten cheat Andrew Strauss. It wasn't due to the suspiciously convenient weather that favoured batting when England was at the wicket then favoured bowling when Australia were batting. Even Ricky Ponting's uninspired captaincy wasn't really a factor. No, it all came down to the old adage: bowlers win games, batsmen save games. England won the Lords Test simply because they bowled better.
Throughout the Test, England bowled full and straight. Australia bowled short and wide. Much of this was largely due to Australia's spearhead, Mitchell Johnson, who contracted a severe case of the yips upon arriving in the Old Dart. I'd rather he'd caught swine flu. As for England's spearhead, Freddie bowled two of the most impressive spells I've witnessed. The first was on Day 4 when he dismissed Phil Hughes and Simon Katich. The second was on Day 5 when he finished off the rest of the innings. The only other player who I've seen impose his will upon a cricket game like that was Shane Warne. Shades of Adelaide 2006.
Even Pup's dismissal can largely be credited to Flintoff. In the preceding overs, Freddie worked him over, broke his bat, bowled a searing bouncer that struck Clarke with his head turned away from the ball at the time of impact. Then Swann came on. I know exactly what was going through Clarke's head when he was dismissed because I got out exactly the same way a few weeks ago. I'd just faced some tight fast bowling at the other end. The dibbly dobbly offspinner came on. I welcomed the opportunity for some easy runs. First ball was a loopy, full one. My eyes lit up, I charged, yorked myself and was bowled. The lesson I learnt, reinforced by Pup's dismissal, is to respect every bowler. Even offspinners. Difficult but necessary.
So what can Australia do to improve our bowling by the 3rd Test? The answer lies largely on Mitchell Johnson's shoulders. Do we drop him for Stuart Clark? I don't think so. What Mitch needs is to work out whatever happened to his technique to have him bowling with such a low arm. Troy Cooley, time to earn your pay. Knock off any rough edges in the tour game over the next week. If Mitch can get his groove back and find support in Siddle and Hilfenhaus who've been bowling well so far, we might claw ourselves back into this series.
---
---
It's like the 4 years since the incredible 2005 Ashes never happened. Again, we're witnessing stirring, amazing cricket. And again, England just don't seem to be able to finish Australia off when by all rights, they should have the match sewn up by now.
For most of the match, everything has gone England's way. The weather has been suspiciously favouring the home side. The 1st day sunny weather favoured batting as England amassed their big first innings. The 2nd day weather was cloudy, favouring swing bowling when Australia collapsed. The 3rd day was again sunny as England built a hefty lead. And the 4th day was cloudy, giving ideal bowling conditions as England pressed in for the kill.
Throughout the game, the umpiring decisions favoured England. Punter was incorrectly given out in the first innings. Bopara was given a 3rd umpire reprieve on Day 3. Day 4 was the worst as 3 of Australia's 4 top order wickets were incorrectly given out. Katich was caught off a no-ball (in what was nonetheless an uncharacteristic drive away from the body). Phil Hughes was caught off the ground. Sure, Hauritz's catch of Bopara was inconclusive, with poor video coverage. There was nothing inconclusive about Strauss's "catch". The ball is on the freaking grass! I'm not sure whether I'm more annoyed at the umpires for not refering it or at Andrew Strauss for claiming the catch so emphatically. If Ponting had claimed that catch against India, effigies would be burning throughout the subcontinent as we speak.

(H/T to Moses who put this together)
"These things happen", philosophises Swann, after taking a wicket where Hussey didn't even hit the ball. It's easy to be phlegmatic about umpire decisions when they go your way. I know I am. But these things don't have to happen if you allow the technology to eliminate the howlers. Funnily enough, it was England resisting the referral system which Australia pushed for. And don't talk to me about Anderson's LBW shout on Hussey. When the ball barely pitches within leg stump then is shown by Hawkeye to barely knock the top right edge of the off-bail, well, I'm surprised Koertzen didn't give it out given the trigger happy mood he was in yesterday.
But all umpiring griping aside, I will concede England have outbatted and outbowled Australia in this game. And we still hold our destiny in our own hands (barring some more umpiring shockers on Day 5). Australia are just 209 runs away from an astounding record run chase. It's still on a knife edge. A wicket early today will expose the tail and it could all be over quickly. But Michael Clarke is in dazzling form. He came to the wicket up to his eyeballs in pressure and was immediately cover driving with such freedom, it was like he was playing a breezy club game. Everyone expected the main star for Australia would be Ricky Ponting with supporting roles from the middle order. A 500+ run chase requires an innings of Steve Waugh style grit. Pup has always been more Mark Waugh than Steve Waugh. Immensely talented and skillful but does he possess the fortitude for a long innings under great pressure? We'll know after a few hours play.
The opening overs will be crucial. The ball is still new. The batsmen won't have their eye in. If they can calm the nerves, survive the opening salvo then reduce the target to under 200 runs, it's game on. Day 5 will be another session or two of high Ashes drama. There will be no draw. By the end of today, the series will be 1-nil.
---
---
The 2nd Test at Lords has unfolded like some sort of twisted anti-Cardiff. Australia have bowled like England did in the 1st Test. Our batsmen have thrown our wickets away with reckless abandon, again emulating England's effort at Cardiff. And most disturbingly, Nathan Hauritz is taking genuine top order wickets. I just don't know what to think anymore.
According to anti-Cardiff theory, England should be pressing for a victory in the dying moments of the 5th day only to be denied by a stubborn 10th wicket stand. The problem with that theory is Australia will need to bat for 2 entire days. Is that possible?
It would require a Ricky Ponting double century with ample support from his middle-order. We would need a fair chunk of rain interruption. Only problem with rain is that kind of weather will suit the English bowlers who will be encouraged to bowl full at the stumps, swinging the ball. We don't want them bowling full. We want short, wide stuff. Just because they bowled short in Cardiff, got hammered then we tried it in the 1st innings and also got hammered is no reason not to try it now.
The other question is when will Andrew Strauss declare? He already proved me wrong by not enforcing the follow-on. If he had the stones, he should declare now and give his bowlers a full 6 sessions at the Aussies. But he seems the type of captain that would consider a 4th innings 521 run chase just not enough to guarantee victory. So I wouldn't be surprised to see him bat for another hour this morning. Suits me and any supporter of Australian cricket.
---

Warning: Division by zero in /home/cricketb/public_html/includes/database.php on line 568